---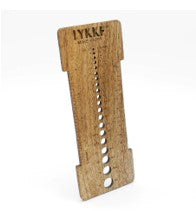 The LYKKE Mango Wood Needle Sizer and Gauge Tool is a super useful addition to your kit bag. I'm always collecting these, especially the cool wooden ones with laser engraving. Mango wood is an excellent material as it's nice and rigid but surprisingly light. 
Needle sizes covered by the tool range from 1.75mm (US00) to 12mm (US17). It also has a handy measure on either side; one side is in inches with the other in centimeters. 
Measures 19cm x 7cm.