---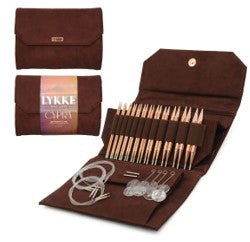 LYKKE Cypra 13cm (5") Interchangeable Needle Set is an excellent addition to LYKKE's ever-expanding range. We're so excited to see LYKKE make its first venture into metal knitting needles. The copper needles are untreated to enable them to develop a beautiful patina of iridescent oranges, purples, and greens. Or you can restore the gleaming copper sheen using the LYKKE Cypra Polishing Cloth (sold separately). This exceptional 13cm (5") Cypra interchangeable set comes with 12 pairs of cooper needles: 
3.25mm - US 3
3.50mm - US 4
3.75mm - US 5
4.00mm - US 6
4.50mm - US 7
5.00mm - US 8
5.50mm - US 9
6.00mm - US 10
6.50mm - US 10.5
8.00mm - US 11
9.00mm - US 13
10.00mm - US 15
This is a different size range to the LYKKE 13cm (5") Driftwood, Indigo, Umber & Blush interchangeable sets. LYKKE have removed the 12mm (US 17) and added the smaller 3.25mm (US 3) needles. Also included in your set are:
x2 clear swivel cords for 60cm (24")
x2 clear swivel cords for 80cm (32") 
x1 clear swivel cord for 100cm (40")
x2 connectors
x4 keys
x8 stoppers
The set is wrapped up in a beautiful and strikingly luxuriant brown vegan suede case. We love it! Yet another resounding success from our friends at LYKKE.