---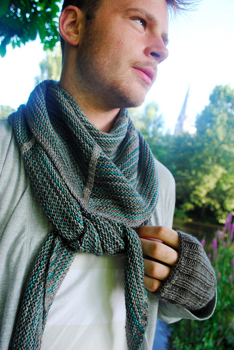 Instructor: Sandy
Level: Advanced Beginner
Fee: $35
Date: Sat August 7th, 10am - 12pm  PDT

Description: 
Clockwork is an enjoyable striped garter stitch shawl/scarf, perfect for featuring two beautiful colors of yarn. Bold slipped stitch columns add structural interest while increases give this gear-inspired design a unique arched shape. Picking colors is always the hardest part, but have fun and be prepared to make a striking statement. This is gonna be a delightful knit. So grab two amazing colors of sock yarn and join in on the fun!
Yarn and Pattern available in Kit 89
 What you will learn:  You will learn how to make Right and Left increases, how to use stitch markers, how to add a second color.
 Prerequisite:  Students must be proficient in casting on, the knit stitch and binding off.
 Materials:  2 skeins of fingering weight yarn (color A: 420 yards, color B: 275 yards), US Size 5, 32" circular needles, 6 stitch markers, tapestry needle.
 Homework:  Wind both skeins of yarn. Using the long tail cast on, cast on  169 stitches and come to class ready to start set up row.
*** Please note that all yarn must be purchased at Knit This Purl That!